Thank you for making your metabolism-changing decision to use the BioCorrect Nutrition™ System.
Your BioCorrect Nutrition™ Analysis Hair Collection kit should arrive at your home or office within 2-3 business days via USPS Priority Mail after ordering online at biocorrectnutrition.com or by calling BioCorrect Nutrition™ customer service at 949-315-8338.  Follow the directions below to collect your hair specimen at home and mail it back to us in the included self addressed envelope.
Inside Your BioCorrect Nutrition Analysis Collection Kit
(1) HTMA Submittal Form (see below for directions to complete)
(1) Hair Weight Scale (see below for directions of use)
(1) Hair Specimen Envelope
(1) Post-paid, Preaddressed Envelope to return your hair specimen for testing
(1) Hair Specimen Collection procedure
(1) A HIPAA release form for your signature and return (if you wish us to share your test results with a personal trainer or clinician)
(1) Discount Coupon for your next BioCorrect Nutrition™ Analysis retest
Step 1. HTMA Submittal Form
Please write your:
• First Name (required)
• Last Name (required)
• Sex, Age (required), Occupation
• Any current medications
• Check ethnicity
• Natural hair color
• Pregnant? Yes or No
Please add your HTMA Lab Number (if a retest)
Please check the source of your hair sample
• Scalp (preferred) or Pubic (insufficient scalp hair)
Please list any hair products (if available)
Please mark the FIVE Most Predominant Symptoms on the Submittal Form
STEP 2: Hair Collection
The recommended area for collection is in the back of the head between the ears and from the top of the head to the hairline on the neck.  Each collected sample should be taken in at least four different locations on the scalp in the suggested area.
High grade stainless steel scissors should be used to cut the hair as close to the scalp as possible.  The length of the collected hair should not exceed one and one-half to two inches.
The portion closest to the hair root (proximal) should be retained and the excess discarded.
Note: The proximal portion is reflective of the most recent metabolic activity.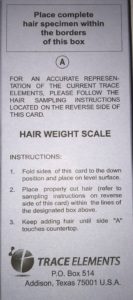 Hair Weight Scale
Use of the Hair Weight Scale will ensure the collection of a sufficient sample weight (125 mg.)
Place the collected hair on top of the rectangular box printed at the end of the weight scale until it tips completely down
If a Hair Weight Scale is not available, one full teaspoon will satisfy the weight requirement
Note: Too little hair will result with an Insufficient Specimen result and will require a new hair sample to complete the analysis. The hair should be sufficiently dry after showering when collecting the specimen.
STEP 3: Packaging and Submittal Form
Hair Specimen Envelope
Write Your Name, Lab Number (if a retest) on the envelope
The hair sample should be placed directly into the hair specimen envelope provided in the kit and sealed
Do not use plastic bags in place of the standard paper envelope to hold the hair specimen
Do not use staples, paper clips, adhesive tape, aluminum foil, or other metal and paper material of any kind to seal the envelope
HTMA Submittal Form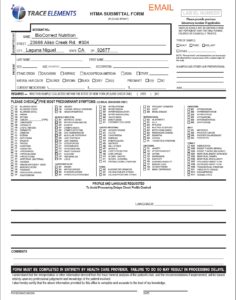 Each sample specimen must be accompanied by a completed HTMA Submittal Form to the our clinical laboratory
See Step 1 for details on information required
Note: We review each submittal form before sending your hair sample to the lab.  If information is missing, we will follow-up with you by phone or email before submitting your hair for analysis.
STEP 3: Mailing Directions
Put the Submittal Form and the Hair Sample into the enclosed, preaddressed envelope
Write your return name and address on the upper left corner
We already added postage to the envelope so all you need to do is drop the envelope in the mailbox
MAIL IMMEDIATELY! Hair samples older than three weeks are inaccurate.
STEP 4: BioCorrect Nutrition™ Analysis Results
Your BioCorrect Nutrition™ Analysis (BNA) results should be ready in ~7-14 days after you send us your hair, depending on your location and the postal service
It takes 1-5 days for USPS to get your Hair Specimen to us
We review your HTMA Submittal Form and Specimen Envelope for completeness before sending your hair test to the lab
Our turnaround is generally within 24 hours, if the HTMA Submittal Form is complete
It takes a few days to ship your hair test to the laboratory
Lab testing is generally complete within 3-5 business days
We email your test results to you the day we get them
Step 5:  Set Up Your BioCorrect Nutrition™ Account
If you ordered your BNA online, you're already have an account.   If you haven't already set up your online BioCorrect Nutrition™ account, make sure that you place your next BNA order online.  We've put a lot of nutrition education online that is open to everyone; however, we have proprietary knowledge for those that follow the BioCorrect Nutrition™ system.
You'll have access to:
7-day meal plans by metabolic type to manage fat loss and muscle gain
Nutrition options to help you feel good while losing weight
Expanded Food Groups beyond what's recommended in your BNA report
Flavorful recipes to keep your meals interesting
Special invitations to webinars, podcasts, radio shows and seminars that aren't available to the general public.
You can even start asking questions online about how to interpret your test results, what to expect from your report or even make a suggestion about topics for upcoming newsletters.   How often do you get to rub elbows with a three-time Natural Mr. America, who is also a former Olympic medical staff clinician and board-certified naturopath; and has treated over 200,000 patients including amateur and professional athletes, actors and actresses, and other celebrities using his system?
Once We Get Your BNA Results
You will receive a password protected email with your BioCorrect Nutrition™ Analysis test results, a pre-consult questionnaire to help you prepare questions for your consult with our health and nutrition specialists, and a request for potential dates and times for your consult.  Please send the completed pre-consult questionnaire to feelgreat @biocorrectnutrition.com so that we understand any specific goals or health challenges prior to your consultation.  You will also find your recommended 30-, 60-, 90- and 120-day supplement recommendations as the last page of your BNA report.
If you ordered your BNA online, you can add the number of bottles of each supplement listed to the 30-, 60-, 90- or 120-day cart option to place your order online.  This allows for you to increase or decrease a specific supplement if you have remaining tablets from a previous order.  If you prefer, you can call BioCorrect Nutrition™ customer service (949-315-8338) if you wish to order by phone or if you have any questions.
Depending on your metabolic type, biochemical balance and toxic metal interferences, your BNA report will recommend a fresh BNA in 60-90 days from the date of testing.   Why?  If you follow the food and supplement recommendations in your BNA, your biochemical imbalances and toxic metal interferences will begin to change with your food and supplement recommendations changing along with it.
Fast 1 and Slow 1 metabolisms typically get tested every 90 days and metabolic types with stress patterns being tested every 60 days.  This is because their biochemistries generally go through faster and greater changes than those with Fast 1 and Slow 1 metabolisms.  If you rigorously follow the system, our hope is that you can move to an every 6-month maintenance testing program with minimal supplements once you reach biochemical balance.
When starting out, most people benefit by ordering either the 60- or 90-day supplement supply to line up with their BNA retest process.  Following the retest process, you save money in shipping costs and larger supplement containers cost less than the smaller bottles.
We at BioCorrect Nutrition™ are excited to help you get metabolically healthy.
Stop Guessing.  Start Knowing…  It's In Your BNA!